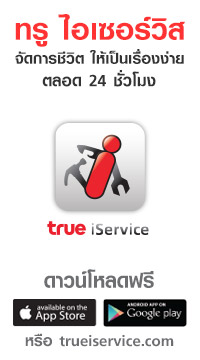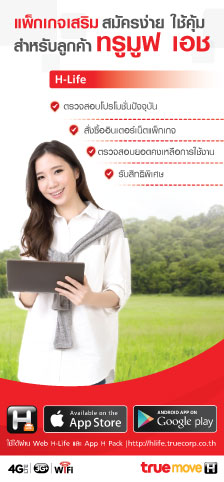 True Corporation Plc is Thailand's convergence lifestyle leader, offering an unrivalled selection of integrated
communications services and solutions. True's business operations encompass five areas as follows:
Our Products and Services

TrueOnline groups together True's diverse yet complementary family of fixed-line telephone, Internet, Broadband and data communications
services as well as the WE Personal Communication Telephone network.
TrueOnline is the largest fixed-line service provider in the Bangkok Metropolitan Area (BMA) while our fiber-rich network is Thailand's most
modern. We are the Kingdom's largest Internet Service Provider (ISP) and Broadband operator as well as a major player in the data
transmission business. We furthermore provide a wide variety of value-added services to both home and business fixed-line telephone
and Internet users.
Fixed-line phone services
2.6 million fixed lines in the BMA
A 26,000-telephone public phone service in the BMA
Value-added services including: Voice Mailbox, Call Waiting, Conference Calling, Call Forwarding, Hot Line, Abbreviated Dialing,
Automatic Call Repetition, Outgoing Call Barring, Caller ID, Direct Inward Dialing (DID), Hunting Lines, Integrated Service Digital
Network (ISDN), Televoting, Free Phone 1-800 and Voice Conferencing.
VoIP services
NetTalk offers both prepaid and postpaid services for international as well as domestic calls
NetTalk is availabe for calls via PC, fixed line and mobile phones
Broadband and Internet services
Cable modem and DSL technologies at speeds up to 10Mbps
Wi-Fi network featuring over 16,000 hotspots nationwide
Value-added services including: Internet Protocol TV (IPTV), White Net Filtering and Norton Anti-Virus
Data Services
Converged data and voice communication solutions for business customers through Digital Data Network (DDN); MPLS; Metro
Ethernet and IP Lease Line technologies
Managed network and data services that combine network performance, fault and configuration management
Internet Data Centre (IDC) providing security services for corporate customers
WE PCT (Personal Communication Telephone)
WE PCT is a cordless fixed-phone service. A subscriber's PCT phone number is the same as his or her fixed-line number.
International Internet Gateway
International data services: International Private Leased Circuit (IPLC), Internet Protocol Virtual Private Network (IP VPN) and
Virtual Node
International Direct Dialing (IDD)
True officially launched its IDD service using the '006' prefix in 2008 using TDM (Time Division Multiplexing) technology.
---

TrueMove offers innovative and high-quality mobile telecommunications services on its nationwide 1800 MHz network to 15 million
subscribers throughout Thailand.
TrueMove's vision is to create a pioneering wireless hi-speed lifestyle where people can communicate as well as access knowledge,
information and entertainment wherever, whenever, and however they wish. The company delivers excellent coverage coupled with quality,
value and unique integrated products while also taking the lead to introduce 3G services to the Kingdom.
Pre Pay services
Pre-paid airtime that can be conveniently 'topped up' through 80,000 resellers nationwide, via 18,000 public phones in the Bangkok
Metropolitan Area or by the TrueMoney mobile payment channel.
Post Pay services
TrueMove's postpaid service allows customers to select from a variety of monthly airtime packages.
Voice services
Voice services including: call waiting, call forwarding, call conferencing, caller identification and international roaming.
Non-voice services
TrueMove offers a wide range of non-voice services including: Short Messaging Service (SMS), Voice SMS, Voicemail, Multimedia
Messaging Service (MMS), mobile Internet through GPRS/EDGE technology, multi media content service and ring back tones.
Mobile handsets and accessories
We offer a broad range of high-quality mobile handsets, related accessories, PDA phones and smart phones including iPhone
and BlackBerry.
Handsets are usually sold outright (untied to any service) or tied to TrueMove's monthly (postpaid) services.
International Roaming Services
We allow people whose network operators have international roaming agreements with TrueMove to use TrueMove's cellular
networkwhen traveling in Thailand and vice versa.
TrueMove is a member of the Conexus Mobile Alliance and a Traveling Connect partner.
---

TrueVisions (formerly UBC) is Thailand's leading pay-TV provider, offering its services nationwide via satellite and cable.
Local and international programming
86 top local and international channels including movies (such as HBO, Cinemax, Star Movies and Hallmark), sports
(ESPN, Star Sports and TrueVisions' own sports channels), infotainment (the History Channel, Discovery Channel and
National Geographic), news (CNN, CNBC, Bloomberg and BBC World) and series (most of which are exclusive to
TrueVisions in Thailand), as well as free TV and pay-per-view. We also have the exclusive Thai rights to live telecasts of
Premier League football (PL).
A variety of monthly packages
TrueVisions offers four different monthly packages: Platinum (86 channels); Gold (77 channels); Silver (63 channels);
and True Knowledge (54 channels).
In addition, TrueVisions provides a-la-carte packages including ten further channels from NHK, HBO, Disney and Discovery.
Mass market access
TrueVisions enables people around the country from all walks of life to enjoy its programming through Free View and
Free-to-Air bundling packages.
---

TrueMoney is an electronic cash and payment service facilitating the payment of selected True Group services. Customers
can also pay for services outside the Group, such as electricity and water supply bills as well as make payments at many
e-commerce merchants etc.
TrueMoney Cash Card
The TrueMoney Cash Card allows TrueMove and True customers to top up and pay for selected True Group and external
services.
Payment and collection service
Online payment service.
WeBooking by TrueMoney offers a fast and convenient way to make and pay for reservations.
TrueMoney Express is a franchised point-of-payment service run in collaboration with some 2,000 retailers nationwide.
TrueMoney services via TrueMove
This service allows TrueMove subscribers to perform commercial and financial transactions using their mobile phone.
TouchSIM
The world's first intelligent contact-less mobile payment system using RFID (radio-frequency identification) technology.
---

TrueLife provides digital content and access to both mobile and online digital communities. It also acts as a digital convergence
and communicator platform for consumer-to-consumer, business-to-consumer and business-to-business transactions.
Online portal
Truelife.com provides an online community and communicator platform allowing users to interact, communicate and share.
Main content categories are music, sport, TV, and movies.
Online games
True Group is a provider of some of Thailand's leading online games including Special Force, Lineage II, Guild Wars and
Point Blank.
TrueLife shops
TrueLife shops bring together under one root the full range of True porducts and services including True Coffee, True Music
and True Broadband.
TrueLife Plus
TrueLife Plus represents our bundling of True products and services, offering customers greater value through packages
that suit their lifestyle.
Online shopping
TrueLife's online shopping service www.weloveshopping.com hosts over 150,000 online shops and more than 2 million items.
True Family