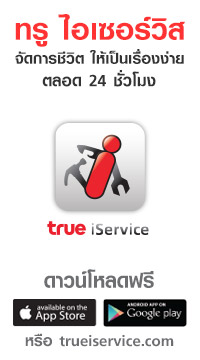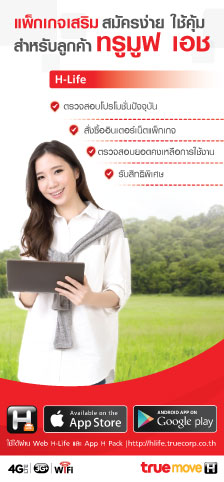 TRUE GROUP THANKS ALL FOR SUPPORT DURING THE 900 MHZ FREQUENCY AUCTION
TRUE GROUP THANKS ALL FOR SUPPORT DURING THE 900 MHZ FREQUENCY AUCTION


Reinforcing its 4G leadership with the best network coverage and largest bandwidth in Thailand

Combining the 900 MHz with its existing 850 (under CAT Telecom), 1800 and 2100 MHz frequencies to optimize service quality for all 2G, 3G, 4G technologies and rolling out the country's genuinely first 4G Advance services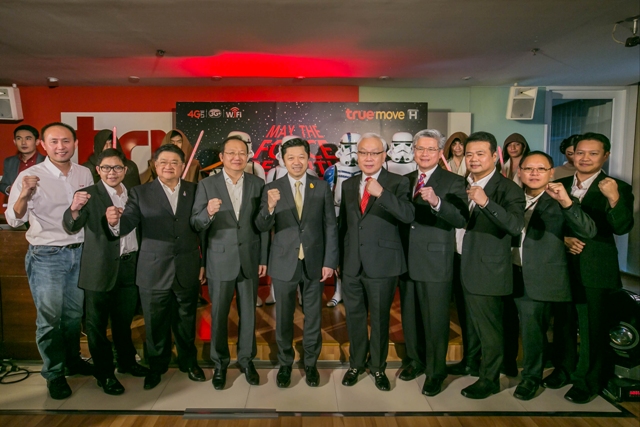 Bangkok, December 21, 2015 – True Group would like to express its appreciation to all for the support it has received during the 900 MHz frequency auction. The victory reinforces True Group's leadership in mobile data service and represents a valuable addition to its existing mobile frequency portfolio which consists of 850 (under CAT Telecom), 2100, and 1800 MHz. With the nation's best network coverage and the highest bandwidth of 55 MHz, the Company is confident in delivering the best experience for the Thai people in communicating on all platforms comprising 2G, 3G and 4G networks. It is also the only mobile operator that is capable of deploying 4G Advance technology in the country. Moreover, the newly-acquired frequency will help reduce long-term operation risks, expand its TrueMove H subscriber base and maximize network coverage and speed quality. The 900 MHz frequency will also help True Group save investment cost, totaling Baht 45 billion, in reaching 97% network coverage. As a Thai company, True Group is also happy to be able to support the existing 900 MHz frequency subscriber base and all Thai customers in the future.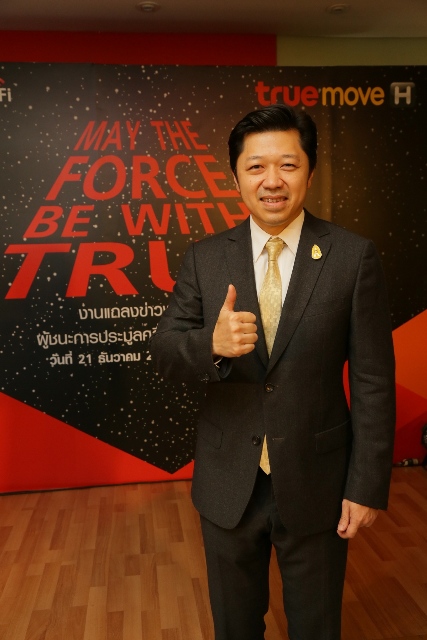 Mr. Suphachai Chearavanont, President & CEO, True Corporation Plc said "We are grateful for all the support during the recent 900 MHz auction, leading to our victory. The auction saw the phenomenal entry of a new mobile operator as an alternative for consumers. It is also an important step for True Group to further establish its leadership in the wireless hi-speed broadband business with the most variety of frequencies and largest amount of bandwidth of 55 MHz. True Group, with China Mobile as its strategic business partner with global 4G experience and expertise, will combine the unique advantages of the 900 MHz frequency in terms of network coverage and nationwide subscriber base with the existing 850, 1800 and 2100 MHz spectrums it already owns to best service the customers in all areas and continue its leadership in mobile data business. Aside from being able to provide its best 4G service, True Group will continue to create ultimate customer experiences on both voice and non-voice services on its 2G, 3G, 4G and, particularly, the country's genuinely first 4G Advance services."

The valuation of the 900 MHz frequency has been carefully considered by the Company's management and its financial advisor. Aside from the value and substantial qualifications of the spectrum, the Company takes into consideration the current 900 MHz subscriber base in the industry, which accounts for about 50% of the entire mobile market. Not only to win additional market shares from the existing subscriber base, the Company's mobile business arm, TrueMove H, is also expanding its presence in line with the increasing demand for wireless telecommunication services. The variety of frequencies and higher bandwidth will enable True Group to maximize its network quality to best serve Thai customers as the 900 MHz frequency is able to provide 3-times greater network reach and save investment cost of Baht 45 billion in reaching 97% population coverage.

The payment terms of the 900 MHz frequency is generous. True Group has sufficient ways to secure financing for obtaining licenses and rolling out the  network through its cashflow, financial institutions' credit facility, the Digital Telecommunications Infrastructure Fund (DIF) and vendor financing. True is confident in its strong business fundamental and is definitely ready to move forwards to develop its network and service quality.

"We would like to re-emphasize that the acquired 900 MHz spectrum is a significant stepping stone and opportunity for us to become the leader in the wireless hi-speed broadband business with minimal operation risk and plenty of room to grow. We are determined to elevate our service levels and deliver the best customer experience for Thai consumers. True Group is grateful for the support from our shareholders, supporter groups, management, employees and, most importantly, our customers for their trust and important role in supporting us to grow steadily and strongly. We will continue to deliver high-quality services through our best network to enable all Thai people to access online news, information and other useful content. We will also join forces with other stakeholders to develop Thailand's telecommunications industry to be at the forefront of the international community," Mr. Suphachai concluded.