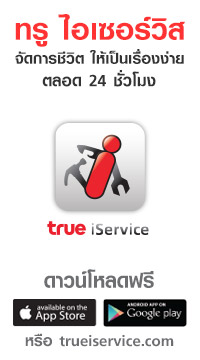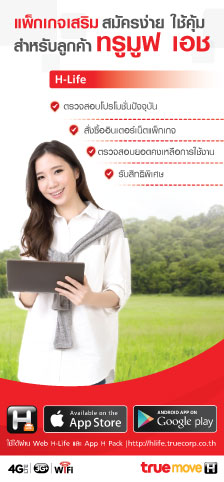 True Group Announces Collaboration with Beats, Seals Exclusive Distribution Rights for Thailand
True Group Announces Collaboration with Beats,

Seals Exclusive Distribution Rights for Thailand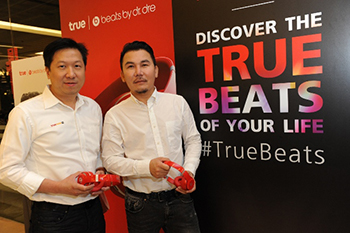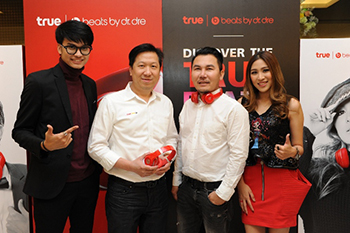 Bangkok, November 4, 2015 – True Corporation Plc, Thailand's only fully integrated telecommunications service provider, announced a collaboration with Beats by Dr. Dre (Beats), a leading audio brand, appointing True Group as the official and exclusive distributor of Beats headsets in Thailand from 13th November 2015. This will help to elevate the music listening experience while supporting the trend towards music-on-demand, where consumers can listen to global music on their smart phones via a high-speed Internet connection. The Beats headsets will be available starting from only Baht 1,900 with the purchase of an iPhone 6s or iPhone 6s Plus on the TrueMove H network. This special deal runs from today until December 31, 2015 and is available at 200 participating True shops nationwide.

Dr. Kittinut Tikawan, Chief Commercial Officer – Mobile & Managing Director, Retail Business, True Corporation Plc., said, "True Group is pleased to have this great opportunity to collaborate with Beats, a leader in the global headphone market. True Group will be a sole official distributor of Beats headsets in Thailand, as we see opportunities to offer a more comprehensive range of services beyond our mobile network. The new generation's lifestyle depends heavily on smart phones, from watching movies and video clips to listening to music. Through its family of premium consumer headphones, earphones, and speakers, Beats has introduced an entirely new generation to the possibilities of premium sound entertainment. We are confident that our collaboration to market Beats in Thailand will enjoy a positive response as music-on-demand services via smart phones are showing strong growth in both global and Thai market. True Group customers will receive a premium music experience enabled by our high-speed Internet for smooth sound transmission combined with the excellent quality of Beats headsets."

"True's sales strategy focuses on reaching out to more Thai consumers to show them how to enjoy a better music experience by using quality headsets. We will have many marketing activities to introduce Beats to Thai consumers. We will increase the number of sales and demonstration stations to offer a real experience and after-sales service. Beats headsets are now available at more than 200 True shops nationwide and at www.itruemart.com, plus our authorized resellers nationwide. As a special promotion, we are offering Beats headsets today starting from only Baht 1,900 when purchasing an iPhone 6s or iPhone 6s Plus along with a 4G iSmart 599 package or higher. This promotional offer runs from today until 31 December."

Mr. Teerasak Arunrermwattana, Group Director, Group Brand Communication & Media Management, True Corporation Plc. added "This collaboration with Beats has come at a wonderful time where True is taking part in the Bangkok International Fashion Week 2015 from November 5-8, 2015, at Siam Paragon Department Store. Under the 'TrueSmart Life' fashion theme, True has commissioned three famous fashion brands 77th, Lalalove and Gin and Milk to incorporate their exclusive designs onto the Beats headsets. These special collection headsets will make their debut at the fashion show together with creations from these three top fashion brands. Moreover, we are also holding a closing party under the theme 'Discover the True Beats of your life' which will feature famous Thai's own DJ Trasher and more."

Those who are interested in Beats' premium headsets can test them out and discover a better music experience at 200 participating True shops or authorized resellers across Thailand.