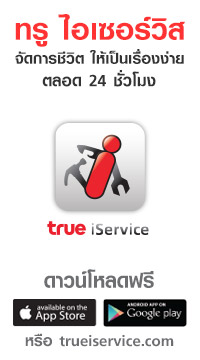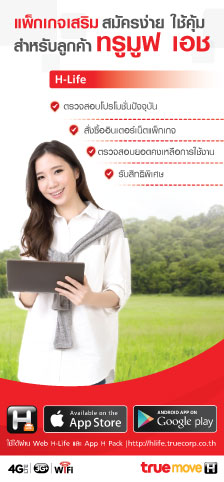 TRUE REINFORCES ITS LEADERSHIP AS THE "SMART DIGITAL LIFE" PROVIDER
TRUE REINFORCES ITS LEADERSHIP AS THE "SMART DIGITAL LIFE" PROVIDER,
UNVEILING THE LATEST COMMUNICATIONS INNOVATIONS AND SOLUTIONS

TO ELEVATE DIGITAL LIFESTYLES AT THE "TRUE SMART LIFE, SMART CITY" EVENT TAKING PLACE
TODAY - 30 AUGUST 2015, AT THE EMQUARTIER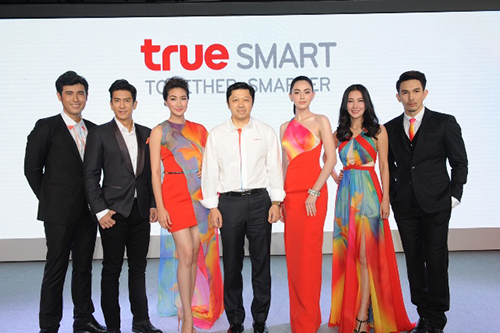 Bangkok, August 25, 2015 - True Group is forging ahead to enhance its leadership in smart digital lifestyles by providing integrated technologies and innovations of the future. The Company aims to elevate urban life into "True Smart Life, Smart City" by offering integrated, innovative communication systems including broadband Internet, 3G and 4G networks that cover all areas nationwide, enabling Thai consumers to stay connected anywhere and anytime. True is also offering quality content and converged cloud technologies and smart innovations as well as a variety of services and the latest solutions for digital lifestyles, today and in the future. Under the concept of "Together, Smarter", True has organized the "TRUE SMART LIFE SMART CITY" event to showcase five innovative solutions which include Smart LIFE, Smart HOME, Smart BUILDING, Smart BUSINESS, and Smart CITY. The event takes place from today until August 30, 2015, at The Emquartier.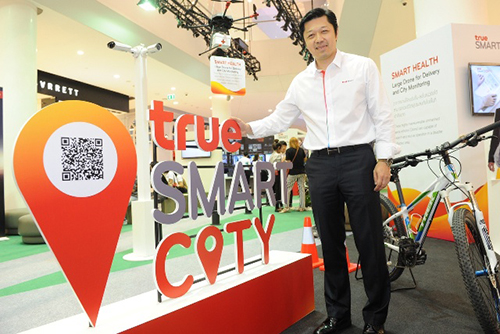 Mr. Suphachai Chearavonont, President & CEO of True Corporation Plc, said, "True Group is the sole convergence communications provider in Thailand. We continue to grow and offer communications services and infrastructure covering all of Thailand, driving the country's readiness to become a new hub of the digital economy in this region in accordance with the Government's digital economic policy. Today, True Group as the innovator of Smart Digital Life, brings together futuristic technologies and innovations under the concept of 'TRUE SMART LIFE SMART CITY' to offer Thai consumers more sophisticated connectivity through TRUE Super Speed FIBER and TrueMoveH's wireless mobile Internet on 4G and 3G networks with nationwide coverage and Ultra Wi-Fi. Consumers will be able to access high-quality content any time via cloud technology and engage with new entertainment experiences and smart devices that will facilitate and optimize their professional and personal lifestyles. True Group's convergence brings together innovative services and products with the 'Together, Smarter' concept, under which the latest and smartest technologies will bring everyone around the globe closer and create more intellectually-advanced societies in the coming years."

The Internet has become a key element in shaping our everyday lifestyle and business operations. Thai people are ready to embrace new technologies in their lives and their familiarity with innovative devices. In the digital era, the Internet is not only a person-to-person communications channel, but is also a channel connecting machine to machine, effectively joining new devices and machines to make the lifestyle of the digital generation more convenient and smarter.

TRUE SMART LIFE SMART CITY will enhance the new generation's life, which relies on innovative technologies to create better living and improve business efficiency in a fast-moving world. The new approaches under the True Smart Life, Smart City concept will support management, administration, transportation, cost reduction, and offer more flexible and effective centralized control, which will further Bangkok's potential to take its place among the world's major cities.

The five innovative solutions under the "TRUE SMART LIFE SMART CITY" are:
Smart LIFE: Gadgets and smart devices such as smart watches, drones, Go Pro cameras, Play Bulb, and console games.
Smart HOME: Connecting through digital technologies and devices at your finger tips integrates comfort and safety and delivers entertainment to all family members through advanced systems such as Home Automation, Home Security, and Home Entertainment.
Smart BUILDING: Enhances security, comfort and control via centralized systems including cloud CCTV, car park recognition, and ID & passport recognition.
Smart BUSINESS: Optimizes business operations for greater competitiveness, lower costs, and operational flexibility, such as a Smart Office that lets you work anywhere at any time via cloud services, along with several new solutions including Office 365, Chrome book, and VCaas. True also introduces the Smart Restaurant, which is easily managed via social Wi-Fi, digital signage, and cloud CCTV. Smart Transport offers fully-integrated and real-time transportation tracking from a control center.
Smart CITY: Reflects the metropolis of the future where new technologies are used for infrastructure. This includes Smart Government with an emergency response & dispatcher solution operated from a command and control room (War Room), city surveillance CCTV, Smart Metering, Smart Health, and drones used to carry victims during emergencies, monitoring traffic, and collecting geographic data.

Thai consumers can experience the "TRUE SMART LIFE SMART CITY" event at True Shop and Q Space on the 3rd floor of Helix Quarter and M floor of The Glass Quarter inside The Emquartier. It runs from now until August 30, 2015. For more details, please visit www.truesmart.com