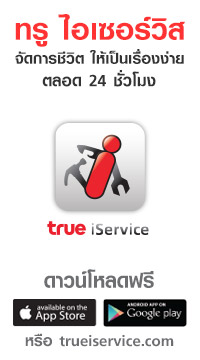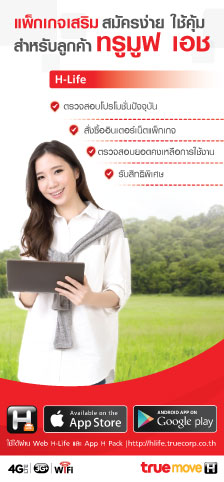 TRUE IDC AND MICROSOFT HELP CUSTOMERS EMBRACE THE CLOUD AND HARNESS THE POWER OF MOBILITY THROUGH "TRUE IDC OFFICE ANYWHERE"
TRUE IDC AND MICROSOFT HELP CUSTOMERS EMBRACE THE CLOUD
AND HARNESS THE POWER OF MOBILITY THROUGH
"TRUE IDC OFFICE ANYWHERE"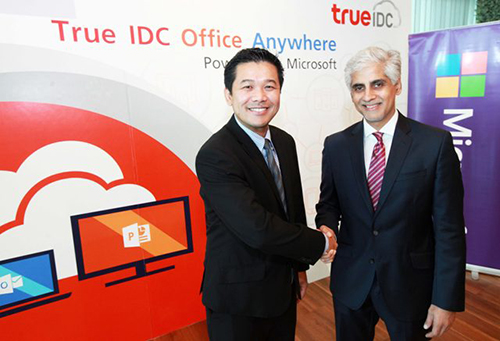 Photo shows Mr. Thanasorn Jaidee (left), General Manager of True Internet Data Center Co., Ltd and Mr. Haresh Khoobchandani (right), Managing Director, Microsoft (Thailand) Limited at the launch of 'True IDC Office Anywhere'

Bangkok, May 13, 2015 - True IDC, Thailand's leading data center and cloud services provider with a one-stop-shop offering launched the "True IDC Office Anywhere" to extend the cloud benefits of Microsoft Office 365 to enterprise customers including Thai SMEs and Fortune 500 companies.

With Office applications that work on any device, enabling greater mobility, flexibility and productivity, as well as world-class security and privacy standards including ISO 27001 and European Union certifications, Office 365 has become the preferred cloud service for businesses of all sizes around the world.

The 'True IDC Office Anywhere' service provides enterprise customers with top-notch, proactive customer service and support through an extensive portfolio of network services, contact center and a specialized team with expertise in cloud services.

Mr. Thanasorn Jaidee, General Manager of True Internet Data Center Co., Ltd., said, "Today, companies are paying more attention to utilizing technologies that enable people to work in increasingly flexible ways. True IDC and Microsoft are embarking on a partnership to introduce True IDC Office Anywhere. True IDC is officially Thailand's first cloud service provider that features Microsoft Office 365 cloud solution. The partnership utilizes Microsoft's approach to cloud computing and True's leadership in extensive Internet services in Thailand. This project also promotes cloud services being offered in the form of Software as a Service (SaaS), which was designed in response to Thai companies including SMEs' that fully embrace mobility, work flexibility and connectivity via our access to faster 4G and 3G networks as well as to the largest broadband Internet network in Thailand. True IDC is also able to directly connect with the latest main system of Office 365 Cloud in Singapore which will definitely enable our clients to work extremely faster. We strongly believe that True IDC Office Anywhere will be able to enhance the competitiveness of Thai companies and SMEs in international markets as well as help them to be ready for AEC."

Mr. Haresh Khoobchandani, Managing Director, Microsoft (Thailand) Limited, said, "Microsoft introduced Office 365, the preferred cloud service for businesses in Thailand. We are delighted to embark on a partnership with True IDC which will makes enterprise-grade communication and collaboration tools affordable, easy to set up and manage, without compromising on privacy and security, for enterprise customers. With True's leadership in Internet, 4G and 3G connectivity, we are confident the True IDC Office Anywhere service will be a favorite among Thai SMEs and enable enterprises to be more competitive in fast-moving markets in the digital economy era."

Microsoft Office 365 has been adopted by 110 million users. In Thailand, Office 365 is the preferred cloud service for businesses of all sizes for the following features:
Familiar and powerful Office applications such as Word, PowerPoint, Excel, Outlook, and OneNote;
1TB of storage on OneDrive for Business and Office Online;
Full Office suite to install on up to five PCs or Macs, up to five tablets and up to five smartphones per user, and unlock the editing capabilities of Office apps for iPad;
Enterprise-grade privacy and security features across the full suite of Office 365 applications;
Always up-to-date with unobtrusive updates to favorite desktop applications. Ability to access, edit and share the latest documents, even when on the go.
Skype for Business (formerly Microsoft Lync) will be available from mid-2015 onwards. Users will benefit from the familiar Skype user interface and ease of use, which more than 300 million people use each month to connect with friends and family.
True IDC Office Anywhere provides the ideal mobility solution for all Thai enterprise customers. SMEs, in particular, will find that it supports their businesses through reduced operational costs with easy-to-use software. Coupled with True's One Stop Shop that boasts outstanding broadband services and Microsoft's Office 365, enterprise customers will always be assured of top-notch customer service, contact center and easy subscription.

The range of services available for True IDC Office Anywhere include Office 365 with broadband Internet connection, Direct Connect and the combination of On-Premise and On-Cloud service. True IDC Office Anywhere is now available for subscriptions. For more information, please visit http://www.truebusiness.truecorp.co.th/