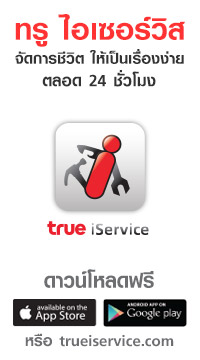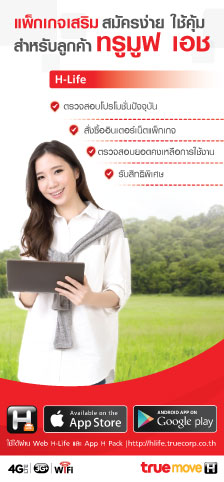 TrueMoney unveils "WeCard by TrueMoney" with MasterCard and Thanachart Bank
TrueMoney unveils "WeCard by TrueMoney"
with MasterCard and Thanachart Bank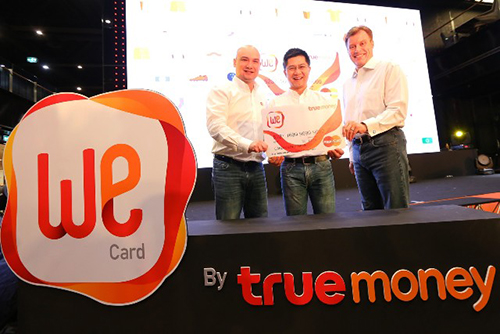 The country's first top up MasterCard and the only one that supports both online and offline transactions
Available in both physical and virtual forms, WeCard by TrueMoney is easier to use and offers a new shopping experience with greater convenience, more confidence and security
Bangkok, September 3, 2014 – TrueMoney once again breaks new ground in the e-Money industry by collaborating with MasterCard and Thanachart Bank to launch WeCard by TrueMoney, targeting 500,000 subscribers by the end of 2015.

Thailand's first prepaid or top up MasterCard, available in both physical and virtual forms, is more convenient as it is the only card that can be used for both online shopping and at physical stores. The card is easier to use as it does not require bank verification and approval processing. Cardholders are more confident since they can activate or terminate the cards any time through the TrueMoney Wallet application. Moreover, the card is more secure as spending will be automatically capped by the top up amount.
Mr. Punnamas Vichitkulwongsa, Managing Director of True Money Company Limited said "As the market leader in e-money, TrueMoney understands the demand for innovative financial transactions for the Millennial Generation, or Generation Y, comprising about nine million people in Thailand who have a monthly spending average of Baht 5,000 per person. These modern young people are more proficient in using advanced technologies to make their lives easier and more convenient. They are evidently spending more, and even more so via electronic channels."

Thailand's online spending was estimated at about Baht 100 billion in 2013 and is forecast to grow 15-20 percent per year. To meet the spending needs of the target group, TrueMoney has joined with two leading financial partners, MasterCard and Thanachart Bank, to launch the new WeCard by TrueMoney that facilitates e-commerce transactions via smartphones.

"The new offering allows customers to purchase products and services via electronic channels, with enhanced security and convenience, while enjoying promotional incentives from participating merchants. Cardholders can control the spending, because they can only spend up to the topped up amount. This solution is ideal for parents who do not want to worry about overspending by their children. We expect the number of WeCard by TrueMoney customers to reach 500,000 people by the end of 2015," Mr. Punnamas added.

Launched in June 2013, the TrueMoney Wallet application has been very successful, with a significant number of downloads. Upon its launch for iOS users on July 15, 2013, the number of downloads from the App Store topped Thailand's finance application category on the following day (July 16, 2013). This is a clear indication that this innovative solution meets the lifestyles of modern people.

This year, TrueMoney has expanded its business with the launch of WeCard by TrueMoney, the first MasterCard top up card in Thailand that comes as a virtual card for online shopping and a physical card that can be used at any stores that accept MasterCard. In the first phase, WeCard by TrueMoney can only be used for domestic online transactions and at stores in Thailand, while overseas usage will be the target for the next phase.

Applying for WeCard by TrueMoney is easy. The TrueMoney Wallet application can be downloaded from the Apple App Store or from the Google Play Store onto smart phones. A TrueMoney account can be opened from within the application by providing some personal information and the virtual card can be activated instantly.

Virtual cardholders will receive their own 16-digit card number plus a 3 digit CVC number as well as expiry date. This information can be used when purchasing online products or services. As for physical cardholders, they will receive the card by post within 5-7 working days after the application date. Alternatively, the physical cards can be purchased and activated immediately at any 7-Eleven stores.

"WeCard by TrueMoney can be used for online shopping and in all stores that accept MasterCard. Moreover, it is also highly secure because the user can control the spending limit and can activate or terminate the card whenever they wish. Financial transactions undertaken via the card have three levels of security. The use of the virtual card requires a user name and password and a One Time Password (OTP) that is sent by SMS. Thereafter, all transactions made need to be confirmed by OTP via SMS. Moreover, customers can check their payment history on a real time basis by using the TrueMoney Wallet application. WeCard by TrueMoney welcomes subscribers from all mobile phone networks. Customers can apply for and use the WeCard by TrueMoney as of today and enjoy a wide range of privileges from MasterCard," said Mr. Punnamas.

Antonio Corro, Country Manager, Thailand and Myanmar, MasterCard said "Despite higher numbers of people partaking in online commerce, over 25% of the Thai population is unbanked. This is a catalyst for us to partner with TrueMoney and Thanachart to develop innovative payment solutions such as WeCard to enable people without credit cards to conveniently shop at physical retailers and online merchants. The popularity of mobile shopping is increasing, with 51.2% of Thais making a purchase through their mobile phones, but security is still a concern. As an industry leader in safeguarding cardholder data, MasterCard increases transaction security with multi-factor authentication and enhanced fraud tools to ensure consumers enjoy a seamless shopping experience using their prepaid card."

Mr. Jean-Marc Dallaire, Senior Vice President, Credit Card Business, Thanachart PCL revealed that "according to the report of the Bank of Thailand and the National Statistical Office, the volume of spending via payment cards (credit and debit cards) in 2013 worth totaling not less than 1.2 trillion Baht with an average growth of 15 – 20% per annum within the last five (5) years. While an overview of electronic commerce (E-Commerce) showed that the volume of online trade in 2013 worth over 100 billion Baht with an average growth of 20% per annum. Based on the aforementioned information, it is obvious that the spending via PAYMENT Cards and E-Commerce entail an ever growing and prominent potential growth. On the other hand, public bodies like the Bank of Thailand has also supported and promoted the electronic payment sector to render efficient and safe method of payment for users as well was to reduce cash management cost".

As a leading bank with readiness both in terms of system and expertise on credit and debit card issuance service for retail customers coupled with business alliance with MasterCard, Thanachart has foreseen the marketing and spending potential via PAYMENT Cards and E-Commerce in Thailand with continuous development and growth. Thanachart has also been trusted as the 'ONLY COMMERCIAL BANK' to join with TrueMoney to develop and serve as BIN (Bank Identification Number) Sponsor Bank and to support the clearing and settlement system for issuance of prepaid card in both virtual and physical card formats to ensure freedom and security of all transactions.

"In this regards, Thanachart Bank PCL is ready to support the launch of WeCard by TrueMoney and confident that the campaign will promote the increasing values of card and online spending on a continuous basis to respond effectively to the demand of customers across the board to ensure convenient and safe spending" concluded Mr. Jean-Marc Dallaire.


---
About TrueMoney

True Money Co., Ltd., a subsidiary of Charoen Pokphand Group (CP Group), has been authorized by the Bank of Thailand to operate an e-money business and by the Revenue Department to be a payment agent. True Money ensures safe and secure service for customers by using advanced code access technology based on international standards. Customers can carry out financial transactions – top-ups, payments, transfers and withdrawals, anywhere and at any time via TrueMoney, TrueMoney Kiosks, and TrueMoney Wallet mobile application at any place any time. Contact TrueMoney call center 0-2647-333 or www.truemoney.com for more information.