True 006
True 006 is an International Direct Dialing service (IDD) without the need of telephone operator assistance. Covering more than 230 destinations all over the world, True 006 provides premium call quality at the most competitive rates with high quality signal by Time Division Multiplexing (TDM) technology.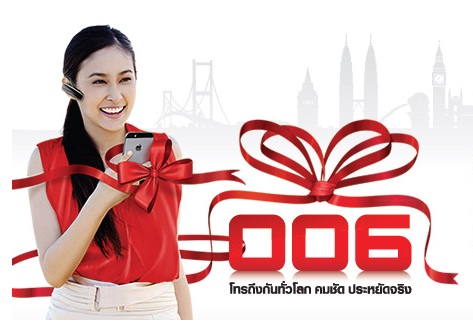 To make premium quality international calls with economy rates via true 006 to all over the world.
Just dial 006 --> Country Code --> Area Code -->Destination Number(without the "0" before local number)
Service available on Fixed line & Fixed line plus from True Online , Mobile phone from TrueMove & TrueMove H

Benefits
• Experience our First Class Quality signal without delays or dropped calls.
• Safe costs for international call service when compare with other operators at the same technology.

For International business customer



For more information or more offerings, please contact the sales representatives or call Business Call Center Tel. 02-900-9100.
---