Voice Solution
Voice Solution for Business
Voice communication is broadly defined more than just calling in and out. It can be referred to various forms to serve different business types from basic office phones, leased network lines connected with the branch exchange system for businesses that require many phone lines at the same time, to the most promising device as mobile phone that requires quality signal coverage. For achieving the effective usage and cost saving, each business needs to select the proper "Voice Solution" with smooth Internet connectivity according to its requirements.

1. Fixed line for business
True offers various technologies to support fixed lines for corporate clients to ensure clear signal, even in high buildings, to perfectly serve your business needs.
- Fixed Line Plus is a new cost-effective fixed line service with IP signal, suitable for small orstart-upbusinessesthat require landlinephone numbersto show the business credibility, but havea low volume of usages.
- IP DIDis a fixed line service via Branch Exchange system that connects automatically to DID. Callers can direct their calls to the final person without wasting the time to call through operators. The fixed line service operates via the PABX device, by dialing 9-digit number so callers can contact internal lines as direct lines. True has designed different packages that serve clients' needs froma medium to high level of usages such as Call Center, retail and wholesale businesses, etc.

2. Cloud UC Service
This service refers to the communication system that combines various communication forms together. Through just one smart device, users can use all kinds of communication from voice to data such as VDO Conference, Chat, and E-mail from all over the world. This is suitable for such businesses as Mobile Office and organizations that yourexecutives or officials often have international travelling or working outside the office, and small businesses that do not want to take care and manage the system or Branch Exchange system by themselves, so they can hire thisCloud UC Service for various forms of communication.

3. TrueMoveH
With the nationwide 3G signal coverage including CBD areas, and the first 4G signal provider, you can be confident of our quality signal, no contact loss or disturbance even when you need to travel upcountry. In addition, True has partnered networks in many countries such as Vodafone. Corporate clients who travel abroad can be sure that the signal has high quality and it is easy to control yourcost.

4. Fixed Mobile Convergence (FMC) Solution
As a service provider for both fixed lines and mobile phones, True can develop convergence solutions for callers to call via both systems with the cost-saving rate and optimized benefits that no other service providers could do, from unlimited callings within the same company by calling on True Network, to forwarding calls from fixed lines numbers or office phone numbers to employees' phones. It is so convenient that your employees would not miss any business affairs during the time they travel outside of their office, etc.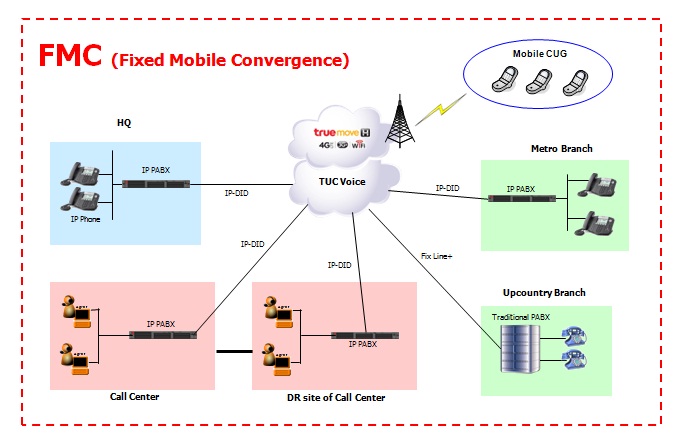 5. Call Center from True Touch
If your company requires a high volume of calling usages, such as Call Center, True can design the right solutionwith database connection, enabling Back Up Site to support calling in and out in case of full lines or emergency to ensure continuous services and usages. In addition, True can install DR Site (or spare Back Up Site) in case of emergency that your office phones cannot be used. Clients can choose to separate the ratio of calling in to each Site as they wish in order to avoid the overload problem of the main lines, so it is easy for you to manage and plan. Corporate clients can also select 4-digit numbers of Call Center number to support usages nationwide.

Why Voice Solution from True?
- True is a Convergence Communication provider both in Voice and Non-Voice, and all our services can be customized according to your desires.
- High quality phone and signal both fixed line and mobile (3G/4G LTE).
- Clear signal with nationwide coverage connected via stable and fast Internet which can support various needs.
- True provides Mobile Application that can developApplication according to clients' needs such as Application for car insurance or logistic companies.
- Cost saving and expense controlling for your organizations.



For more information and offerings, please contact our sales representatives or call Business Call Center Tel. 02-900-9100.
---