Branch Solution
Branch Solution is a network service for data transmission between one place to another, or from various places, such as connecting from head office to various branches, head office to support computer center, head office to warehouse, etc. by connecting via leasing circuit, Private Link, Multi Protocol Label Switching (MPLS), complete service both leasing circuit and router, and other necessary equipment for connection.
Examples of Branch Solution network connection are shown below with images illustrating the connection between head office and other branches using both leasing circuit, MPLS, designed for transmitting both data and voice.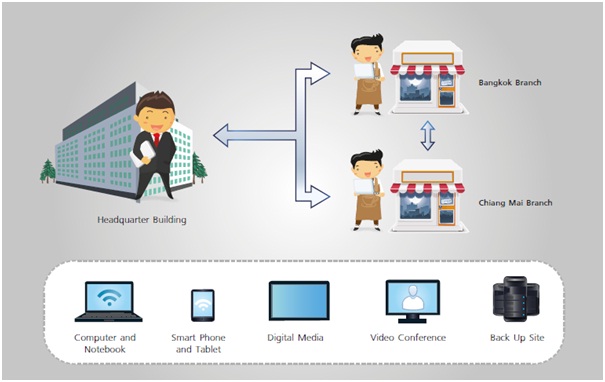 Suitable types of business for Branch Solution
• Office, branch office, factory, warehouse or business requiring data connection between each place.
• Business with service equipment such as ATM, Credit Card, Kiosk, etc.
• Business requiring data security system for data connection and transmission at all times.

Benefits from Branch Solution
• Connecting via Private Link, so the data transmission is stable, fast, smooth and able to continuously operate with its full capacity.
• Having a higher level of security than other general Internet network services.
• Using with voice, video and data.
• Connecting with various offices or branches in other provinces on the same network.
• Having network system management service that keeps monitoring network operations throughout 24 hours, prompt to respond to and fix problems immediately.
• Saving and reducing costs and expenses as the equipment can be rented on a monthly basis.
• Providing service with our expert team covering all services, consultation and suggestion, including design service for the network system to serve all kinds of needs.

Why Branch Solution from True?
True offers Branch Solution service in a complete package as Single Point Contact with accredited standards in all aspects and expert team by True.
• The connection via MPLS is stable, fast, smooth, and able to operate with its full capacity, which is safer than other types of Internet.
• The supplementary service as Management Network Service (MNS) is provided. It is a network system management for monitoring the network throughout 24 hours, ensuring that all problems and unexpected events will be notified, so that our officer can immediately provide you with our fix and repair service.
• Ensuring confidence with service warranty, problem solution and management by expert team, in Bangkok and metropolitan areas within 4 hours and in other provinces within 8 hours.
• Reducing costs by monthly-rented equipment without any investment for your own equipment.
• Providing service with our quality team, covering all services, consultation, suggestion and designing service for the network system to serve all kinds of needs.
• Prompt to take care of your business with our Service Management Center team throughout 24 hours and 24-hour Call Center.



For more information and offerings, please contact our sales representatives or call Business Call Center Tel. 02-900-9100.
---