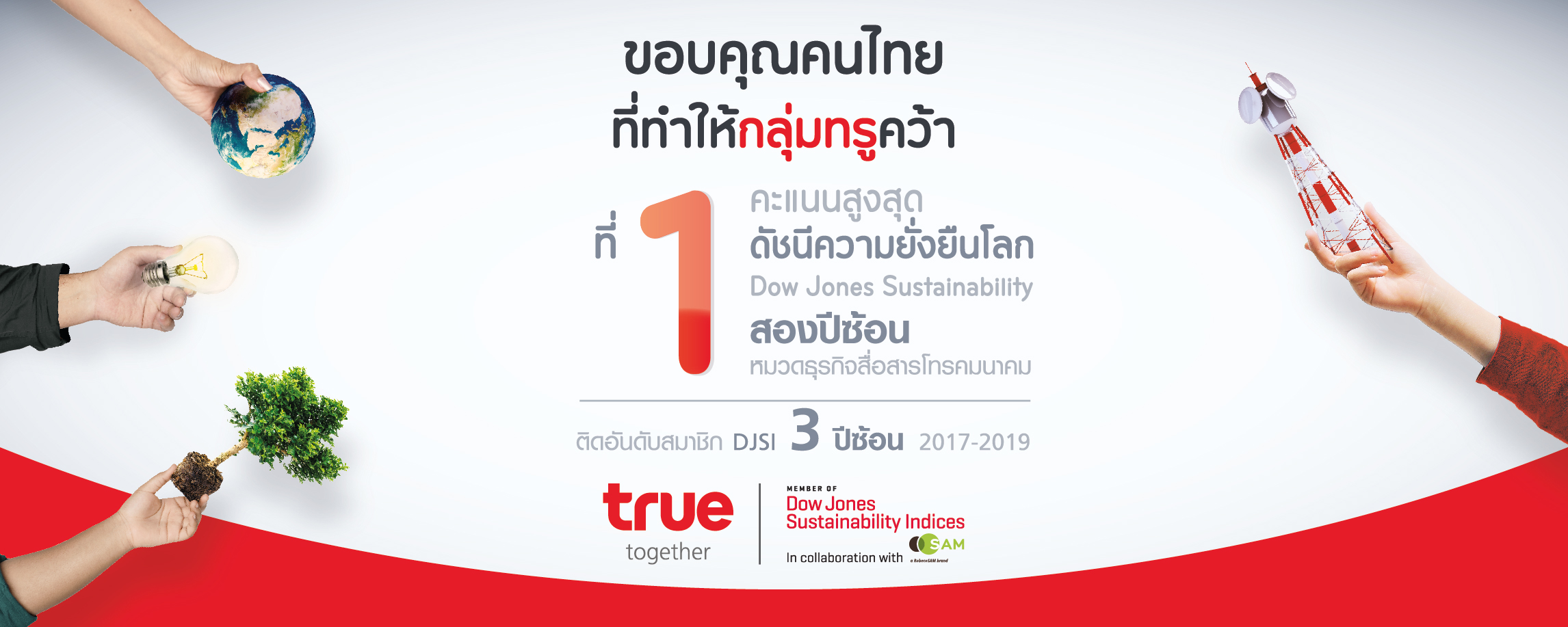 True Group Tops DJSI Sustainability Indices 2019 in Global Telecommunications Segment for the Second Consecutive Year
17 SEP 2019
True Group Tops DJSI Sustainability Indices 2019 in Global Telecommunications Segment for the Second Consecutive Year, Reflecting Commitment in Creating Outstanding and Innovative Developments for Sustainability. True was also recognised by both DJSI Emerging Market and FTSE4Good in the category of Emerging Index for 3 consecutive years.
True Corporation Public Company Limited is proud to elevate the level of sustainability for Thai telecommunications by being recognized as the global leader in the telecommunications segment of the 2019 Dow Jones Sustainability Indices (DJSI) for two consecutive years. Moreover, True has been a member of the DJSI emerging market index for three consecutive years as well as maintained its position as a member of the FTSE4Good Index Series for the past three consecutive years. These international recognitions stem from the organization's consistent outstanding developments in three dimensions: economy, society and environment, under the strategic framework of 3H's: Heart, Health, Home, as a long-term sustainable value for all stakeholders and the nation.
Dr. Kittinut Tikawan, Group President (Co) of True Corporation Plc said "In 2019, True Group has been selected to be a member of the DJSI Sustainability Indices for three years in a row. With the highest scores, it has also been ranked as the world's sustainability leader in the telecommunications category for the second consecutive year, while at the same time still maintaining its position in the FTSE4 Good Index Series. We are grateful to all the Thai people who have helped support True Group in concretely creating outstanding innovations for sustainable development and eventually being recognized on the international level. This success comes from the assessment of the company's performance in 3 dimensions covering economy, society and environment under the strategic framework of 3H's: Heart - Commitment to Sustainable Business, Health - Commitment to Sustainable Society, and Home - Commitment to Sustainable Environment. This year, we are also delighted that many Thai companies have earned world top scores in many industries, enhancing sustainability standards which will serve as good example and best practices for each industry in Thailand in the future."
Mr.Siripoj Kunakornphan, Group President (Co), True Corporation Plc said "Being consecutively awarded membership in the two renowned global indices is one of the major factors for investments among investors, financial analysts and all stakeholders worldwide. We are dedicated and committed in bringing digital telecommunications technology to increase economic, social and environment values by developing basic infrastructure nationwide, innovating products & services for all stakeholders, strictly managing online security and privacy and strengthening potential of trade partners and human resources. Moreover, we continue to support the creation of a learning society and improve the quality of life among children, the elderly and vulnerable groups, which will lead to shared value as well as stable and sustainable business growth."
About DJSI
DJSI is an internationally recognised sustainability index, which has been accepted globally. Every year, over 3,400 large corporates listed on the stock exchange with the highest corporate value to join the Corporate Sustainability Assessment or CSA.
About FTSE4Good
The FTSE4Good Index is an assessment conducted by FTSE Russell, which complies with the United Nations' sustainable development goals. The FTSE4Good Index was first compiled in December 2016 by screening the eligible listed firms in more than 20 emerging markets such as China, Brazil, South Africa, Taiwan and Russia. The FTSE4Good Emerging Market has considered over 300 aspects of indicators among its members. Environment aspect includes Climate Change, Environmental Footprint and Environmental Supply Chain. Of the social aspect are like Community Initiatives, Human Rights, and Labor Practices. Good governance comprises Corporate Governance, Risk Management and Tax Transparency. These factors are what investors, financial analysts and other stakeholders around the world put the high importance on in making decisions for their investments.