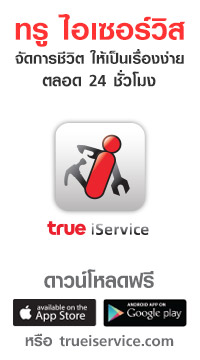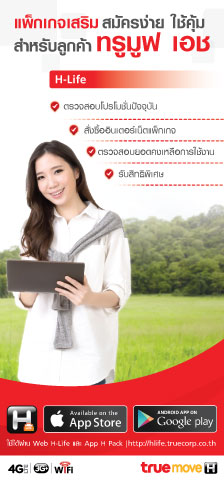 TRUE POSTS STRONG DOUBLE-DIGIT SERVICE REVENUE AND EBITDA GROWTH YOY DRIVEN BY STRONG PERFORMANCE OF TRUEMOVE H
TRUE POSTS STRONG DOUBLE-DIGIT SERVICE REVENUE AND EBITDA GROWTH YOY DRIVEN BY STRONG PERFORMANCE OF TRUEMOVE H
BANGKOK, August 15, 2016 – True Corporation PLC (SET: TRUE) reported solid results for the second quarter of 2016 with double-digit YoY growth in service revenue and EBITDA, led by the cellular segment whose revenue has delivered the highest growth rate in the industry for 12 consecutive quarters and EBITDA soared 87% from the previous year.
Consolidated service revenue accelerated 20.1% YoY to Baht 21.9 billion in 2Q16 due to strong double-digit growth of the cellular and consumer broadband revenues. This resulted in an EBITDA surge of 41.3% YoY to Baht 6.3 billion excluding the 2015 gain from transferring towers to the Digital Telecommunications Infrastructure Fund (DIF) for a meaningful performance comparison.
Expenses related to the aggressive rollout of the 4G and 2G networks to match the 3G nationwide footprint covering 98% of the Thai population as well as spectrum licenses amortization, however, pressured the Group's bottom-line to report a loss of Baht 0.4 billion in the second quarter of 2016.
True President and CEO Mr. Suphachai Chearavanont said, "True Group has shown a consistent record of solid revenue and subscriber growth despite competitive intensity. The Group's cellular service revenue has outshined peers with 31% YoY growth, the 12th consecutive quarter in which True's revenue growth exceeded that of its peers. Consumer broadband revenue has maintained the course of healthy double-digit growth. These achievements were a result of our ongoing commitment to expanding wired and wireless telecommunication networks nationwide as well as to providing high-quality products and services that match consumers' demands and lifestyles in this digital era.
True Group is in a prime position to further accelerate scale and gain share leveraging on its leading position in terms of network, content, digital services and distribution channels while adding value to its offerings through convergence propositions."
During the second quarter, TrueMove H continued to build on its strengths of network quality and coverage, attractive device-bundling campaigns and enhanced distribution channels including business partnership with Com7, one of Thailand's largest IT retailers. The business exhibited stellar growth in both postpaid and prepaid segments whose revenues grew 30% and 41% YoY respectively, driving cellular service revenue to Baht 14.3 billion and value market share to 23.6% amid the YoY contraction trend of other major players. By the end of 2Q16, its subscriber base expanded to 21.5 million, gaining 1.1 million customers during the quarter. A greater variety of affordable 4G smart devices as well as attractive content and applications will continue to be introduced to suit fast-growing demand of mobile data and digital services.
TrueOnline delivered another strong performance in the second quarter of 2016. The fiber broadband campaign, TRUE Super Speed FIBER, together with True Group's competitive convergence promotions drove consumer broadband revenue to grow by 15% YoY and broadband customer base to 2.6 million. The continued expansion of its fiber broadband network beyond 8 million homes passed will be a key contributor for further lifting its revenue and subscriber growth.
TrueVisions remains committed to equipping its portfolio with a full range of high-quality local and international content. The business acquired 142,718 net additions, expanding its customer base to 3.4 million at the end of 2Q16, underpinned by continued success in the mass segment. TrueVisions' success in securing the rights to broadcast all matches of English Premier League on beIN Sports channels in Thailand for the upcoming three seasons, combined with other top major soccer leagues offered under the "TRUE Super Soccer" package, will enlarge Thai people's accessibility to these popular content through True Group's mobile and television platforms.
True Group CFO Mr. William Harris said, "We are delighted that the Group's financial results in the second quarter showed significant improvement, thanks to a spectacular performance of the mobile business, and its balance sheet was strengthened with the net debt-to-EBITDA ratio dropping to 2 times. Efficient cost management will be at the top of our list to further enhance True Group's financial performance going forward."