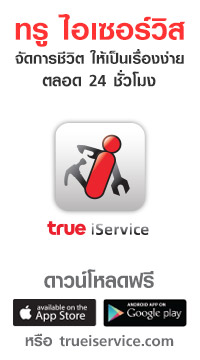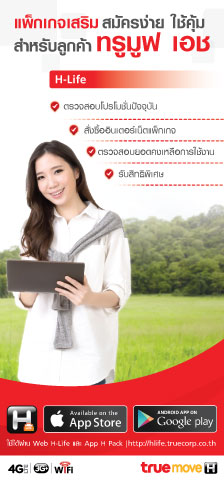 TRUEONLINE REINFORCES ITS LEADERSHIP IN BROADBAND INTERNET
TRUEONLINE REINFORCES ITS LEADERSHIP IN BROADBAND INTERNET,
OFFERING ADVANCED TECHNOLOGY GIGABIT NETWORK TO PENETRATE
HIGH-END USERS IN THE HEART OF BANGKOK, COUPLED WITH FTTX AND
DOCSIS 3.0 TO COVER 5 MILLION HOUSEHOLDS THIS YEAR, TARGETING
NEW CUSTOMERS WITH GREAT VALUE CONVERGENCE PACKAGES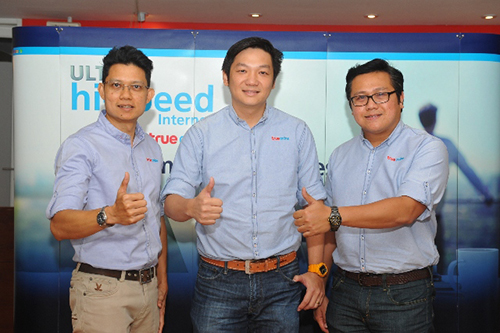 Bangkok, 4 June 2014 - TrueOnline reinforces its leadership in broadband Internet services while moving ahead with continued success as its customer base increased to 1.9 million (as of March 2014). TrueOnline is now Thailand's number one market leader with a 65% share of the high-speed internet market in Bangkok and its vicinity. It continues to tap into regional markets nationwide highlighting quality services through advanced technology that offers stability and high-speed signals. TrueOnline is also extending FTTx technology which directly connects to buildings and housing developments in the heart of the city while aiming to meet the needs of high-end users' lifestyles with the high speed online Gigabit Network. It is also accelerating Docsis 3.0 technology to cover 5 million households by the end of this year. TrueOnline is offering great value convergence packages that have been highly popular where customers can choose to increase their speed based on their usage. Recently, it offers a new standard of high speed Internet, starting at 30 Mbps for new customers who apply for "True Sookx3"package, packed with TrueVisions and TrueMove H services with monthly fees starting under one Baht 1,000. TrueOnline is confident it experience strong business growth while expanding the customer base to 2.2 million by the end of this year.

Mr. Manat Manavutiveth, Chief Commercial Officer, TrueOnline and TrueVisions, True Corporation Plc, said that in the first quarter of 2014, TrueOnline has seen a huge success in offering convergence packages that added value to customers. This has resulted in increasing the broadband subscriber base to 1.9 million. TrueOnline is the al-time leading broadband service provider dominating the broadband Internet market, especially in Bangkok and its vicinity where the market share is 65%. This year, TrueOnline will continue to offer the best services to customers with a selection of advanced technologies that provide stability and high speed, ranging from DSL, DOCSIS 3.0 and FTTx. We are continuously improving service quality and after sales services while delivering superior value convergence packages, which are in line with True Group's convergence strategy.

TrueOnline provides services via a wide range of technologies such as DSL, DOCSIS 3.0 and FTTx over high quality fiber networks capable of delivering stable and high speeds of 10-200 Mbps which are ideal for data transmission. In addition, TrueOnline also provides FTTx services with gigabit maximum speeds and is available now at over 1,000 buildings in Bangkok, both residential and office. It also extends FTTx service to housing developments in the heart of the city requiring super fast Internet. As of now, TrueOnline has expanded its Ultra Hi-Speed Internet service to cover more than 4.4 million households in 66 provinces, and is expected to reach 5 million households nationwide by the end of 2014. In addition, TrueOnline has prepared to upgrade its service for subcribers who use the service through fixed-line telephone in Sukhumvit and Ladprao areas to DOCSIS 3.0 or FTTx for better service quality and higher speeds. It also plans to upgrade the service in other areas in Bangkok and its vicinities as well.

Regarding its strategy for expanding the customer base this year, TrueOnline will continue its convergence strategy, by integrating True Group services to deliver maximum value to customers. These include successful convergence packages that were well-received by customers nationwide: "Net True Double Sook", "Net True Sook x2", "Net True Sook x2 Plus" and "True Sook x3". TrueOnline is ready to offer superior value to new customers who apply for the "True Sook x3" package where they will get a speed upgrade starting from 30 Mbps. Subscribers will be able to watch quality program on TrueVisions, the country's leader in pay TV and enjoy TrueMove H services which include the country's first commercial 4G LTE and largest coverage 3G service, all for a monthly fee starting at under Baht 1,000 Baht by June 2014.

"TrueOnline is confident in its convergence strategy, which is an important factor that contributed to its strong growth leading to a successful Ultra Hi-Speed Internet service by TrueOnline. The services have received good responses from users nationwide. Morevoer, TrueOnline won the 2014 Frost & Sullivan Thailand Excellence Awards: Thailand Broadband Service Provider of the Year. This is the second consecutive year that it has earned this distinction. We will continue to focus on quality services coupled with innovative technologies and value-added services, as well as improve our after sales service to deliver the utmost customer satisfaction," Mr. Manat concluded.